Ellen Kehl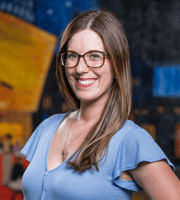 Ellen Kehl is the Associate Director with The Nonprofit Partnership. Ellen has her Bachelor's Degree in Social Work from the University of Pittsburgh and her Master's Degree in Public Administration from Gannon University. She began with The Partnership as a student intern in January of 2015 and secured full time employment after receiving her MPA in June of 2016.
Ellen enjoys acting as the bridge between The Partnership and its member organizations. She's responsible for the organization's brand management, member relations, programming, partnerships and more.
Additionally, Ellen is a...
Board Member with The Northwestern Pennsylvania Chapter of the Public Relations Society of America (PRSA)
Board Member with the Wattsburg Area School District Foundation
Member with Young Erie Professionals
Proud Mom! 
Ellen grew up in Erie and looks forward to being part of the community's transformation and continued growth.
Email: ekehl@yournpp.org
Phone: (814) 240-2490 ext. 5
Connect with Ellen on LinkedIn.