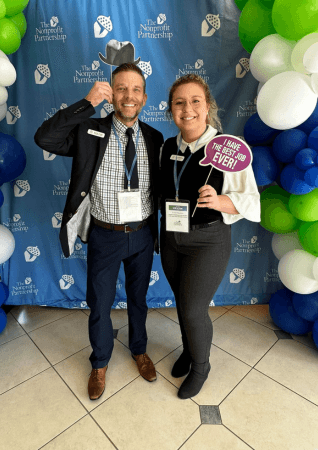 At The Nonprofit Partnership, we're dedicated to supporting and enhancing the nonprofit sector. Our range of services, programs, and initiatives is thoughtfully designed to meet the diverse needs of nonprofits, providing them with the essential tools, knowledge, and support they need to succeed.
Education and Training
Knowledge is key to growth. That's why we offer a variety of educational workshops and training courses tailored to the specific needs of the nonprofit sector. From leadership development to financial management, and from fundraising strategies to marketing insights, our educational offerings aim to be both informative and practical.
Consulting and Support
The challenges of navigating the nonprofit landscape are many, and we're here to help. Our consulting services offer guidance and strategic insights, helping organizations streamline their operations and increase their impact.
Information Sharing and Resources
Sharing information is vital in a learning community. Through webinars, cohorts, forums, and our online resource library, we make sure our members have access to up-to-date trends, research, and tools. This isn't just about providing information; it's about fostering a community that learns and grows together.
Community Building
Our commitment goes beyond serving individual organizations. We strive to be a voice for the nonprofit sector, bringing attention to its needs and achievements. By fostering connections and building a community among nonprofits, we help to enhance our collective impact.
Tailored Services for Diverse Needs
We recognize the uniqueness of each nonprofit. Whether your organization is small or large, we aim to provide support that is mindful of and responsive to your specific mission and circumstances.
Steadfast Commitment
At The Nonprofit Partnership, we're more than just a service provider; we strive to be a reliable partner. We're committed to our members, and if there's a question we can't immediately answer, we'll do our best to find the information you need. We're dedicated to helping you achieve your goals.
The Nonprofit Partnership Experience
When you engage with us, you're tapping into a network of support and knowledge. You're joining a community that values collaboration and shared success. At The Nonprofit Partnership, we believe in working together, supporting one another, and making a collective impact.
Welcome to a space where your mission is respected, your challenges are understood, and your successes are celebrated. Welcome to The Nonprofit Partnership. This is what we do.

The Community Fund Drives Committee endorses local and regional nonprofit campaigns within Erie County that will solicit funds in excess of $500,000.
Looking to learn more? Click here.