Membership Appreciation Day!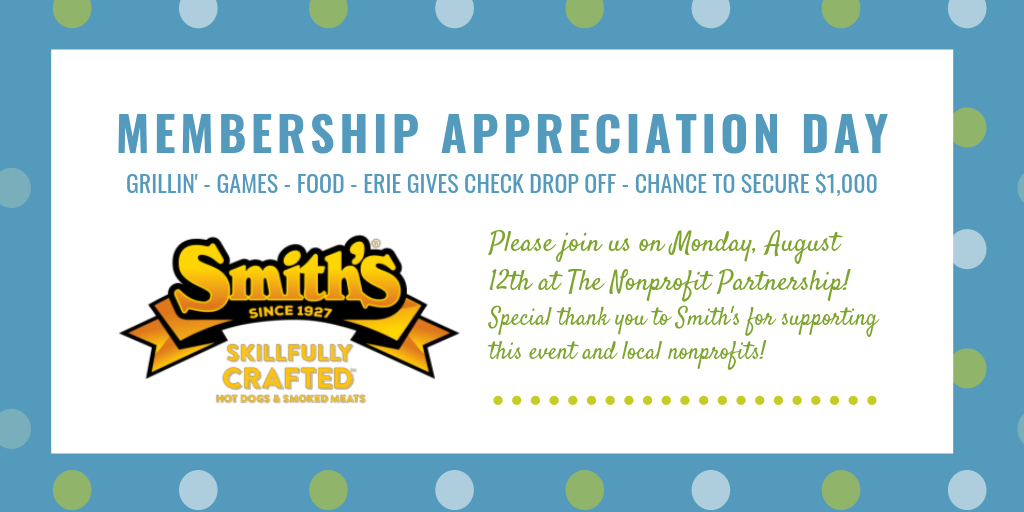 Please join The Nonprofit Partnership and The Erie Community Foundation on Monday, August 12th for Membership Appreciation Day! Nonprofit professionals work extremely hard and in tough fields – to say you deserve a little appreciation would be an understatement.
Join us the day before Erie Gives Day for:
- Grillin' featuring The Nonprofit Partnership's Executive Director, Adam Bratton, and The Erie Community Foundation's top dog, aka President, Mike Batchelor.
- Yard games, 'cause you deserve a dose of fun!
- Photo ops: feed your appetite for Erie Gives marketing fodder and come snap some pictures!
- Ice cream… need we say more?
- Erie Gives check acceptance: Monday is the last day to turn in checks! Representatives from The Erie Community Foundation will be available to accept your checks so that your Erie Gives totals can sky rocket on Tuesday, August 13th.
- BONUS! There will be a $1,000 Erie Gives donation up for grabs! Event attendees are able to submit the name of their favorite nonprofit for a chance at the donation - one submission per person, but no limit of submissions per organization! Encourage friends, staff, Board Members, volunteers, etc. to come on down & submit on behalf of your organization (they can stay and have some fun, too!).
The details…
- Date: Monday, August 12th
- Time: 11:00 AM – 2:00 PM… stop by whenever!
- Location: The Nonprofit Partnership – 609 Walnut St., Erie, PA 16502
- Dress code: BBQ-casual… strap on your favorite overalls and c'mon down ;)
- Come: hungry, ready to play games, and determined to win.
- Feel free to bring: mascots, donors, staff members, volunteers, and PETS!
- Don't worry about: registering!
- Paparazzi: please use hashtag - #NPPLOVESNPS :-)
Special thank you to Smith's for supporting this event and for supporting local nonprofits!