We're accepting proposals for the 2023 Keystone Nonprofit Conference in Erie, PA!
The 22nd annual Keystone Nonprofit Conference will take place on Monday, October 23, 2023 and Tuesday, October 24, 2023 in Erie, PA. Once again, the Main Event (Tuesday) will host an array of breakout sessions focused on fundraising, marketing and communications, DEI, operations, governance, marketing and leadership and more.
Deadline for submissions: Friday, April 14, 2023
Please note: The Nonprofit Partnership is on a mission to intentionally incorporate diversity, equity, and inclusion (DEI) into our annual conference and into our everyday work. Anyone and everyone has something to bring to the table and we want to hear what makes you so uniquely you! That's when the magic happens and that's when minds open. Together, we have a chance at fostering a happy and healthy nonprofit community.
Additional information:
No spam proposals, please. To be considered for a role at KeyCon, your proposal has to be relevant to the nonprofit sector with the goal of improving the impact and capacity of the sector.
Confirmed speakers will not be compensated for their conference participation. Speakers will be granted free conference registration. The Nonprofit Partnership will cover reasonable travel and accommodation expenses.  
The Keystone Nonprofit Conference will be held in-person in Erie, PA.
Speakers will be expected to present in an educational, non-commercial, non-self-promotional manner. NO sales pitches are allowed during presentations or sessions. Contact us with questions.
2023 THEME: MYTH BUSTERS!
The nonprofit sector is bombarded by myths that can often be harmful to our ability to achieve true impact. A truly compounding myth in our sector is known as the overhead myth – a notion which tells funders, donors, and nonprofits that investment in capacity (talent, marketing, technology, fundraising, etc.) is a bad thing as it takes away from "real" service to our constituencies. As if those things don't contribute mightily to our ability to increase scope and impact to address society's greatest challenges.  But there are other, often intertwined, harmful myths. Myths surrounding collaboration and alignment encourage fear of loss of identity and control. Myths surrounding lagging growth in the nonprofit sector can enable slow decision making (impeding growth in the process). Or perhaps the myths around governance that inhibits the abilities of our Boards to accept their responsibilities around their role in our success—or failure.
Whatever the myth, we will endeavor to explore them, have conversations around why they exist, and ultimately break them down so that we can collectively strengthen and move forward as a sector.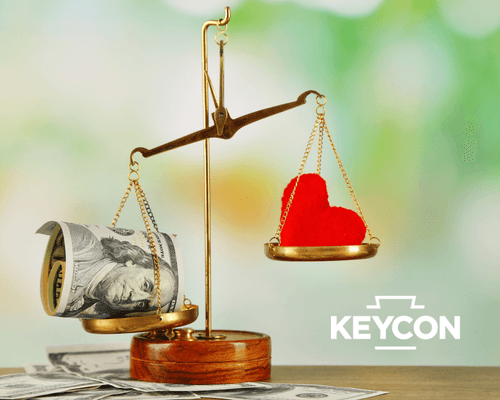 Is there a myth that confounds you? What myths do you experience that you think we need to move past? Is there a hidden myth that doesn't get discussed, but should?
At KeyCon, we will use our time together to have frank, open and honest discussions around the myths that hold us back, with the goal of increasing our ability to tackle and solve the issues that we've been tasked to address. The nonprofit sector has a unique role in our society, and we can no longer limit ourselves, or allow others to limit our abilities, if we are going to realize our full potential, for the benefit of everyone.
Bonus points to proposals that tackle a myth in the nonprofit sector!