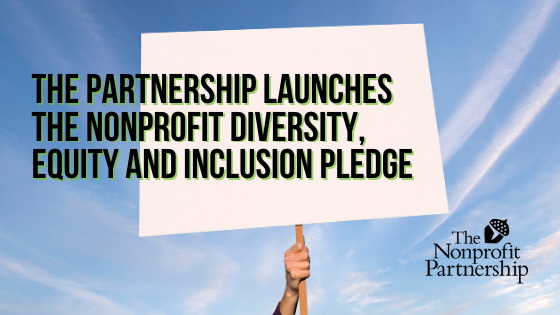 The Nonprofit Partnership has introduced the Nonprofit Diversity, Equity and Inclusion Pledge in order to encourage our member organizations and the sector as a whole to proactively implement DEI practices at their organizations. While there has been a long-needed awakening as to the need for DEI discussion and implementation, there continues to be a void in developing constructive paths forward. That is why we have created the Pledge.
 
The Nonprofit Partnership does not seek to lecture our sector as to its inadequacies in this or any other realm. Instead, NPP seeks to be a partner with our nonprofits so that they understand how to successfully implement DEI practices and have the resources to do so. 

As part of this commitment to partner with our nonprofit organizations, we also recognize that we at the Partnership must commit ourselves to creating a more diverse, equitable, and inclusive sector. We don't pretend to have all the answers and we can't claim to be perfect—in the past, present, or future. What we will do is provide support for this effort, while also discouraging activities in areas that we control that will not advance diversity, equity, and inclusion.

The Pledge can be broken down into three parts:
First, an overarching agreement from the signatories to commit to the vision of more diverse, equitable, and inclusive organizations. 
Second, tactical steps that participants agree to implement to move DEI practices forward in their organizations. 
Third, a commitment from the Partnership to support our member organizations in these efforts through areas such as training, education, and research, with the goal of providing the means necessary for all member organizations to achieve success in this realm.
Our goal isn't to get as many organizations as possible to sign onto this Pledge. It would be wonderful if all our member organizations could and did make that commitment. But ultimately, we want it to be a thoughtful commitment that embeds the productive tenets of diversity, equity, and inclusion into the fabric of the organizational cultures of those who sign it. We wish for all organizations, prior to making such a commitment, to have discussions, particularly at the Board and leadership level, about what this commitment truly means. And to make the necessary investments to ensure long-term success in its implementation. 

We are not interested in the rhetorical commitments that abound these days which seem to be made from well-meaning superficial demonstrations of empathy or a desire to make public expressions that are not bound by internal obligation. We are interested in commitments that act as a catalyst for true and meaningful change.

The Nonprofit Diversity, Equity, and Inclusion Pledge can be accessed by going here. Questions surrounding the Pledge, or the support NPP can provide, can be directed to me. 

For those nonprofits who are not members of NPP, we do not want to leave you out. You can download a version of the Pledge for your organization here, if for no other reason than to start a conversation. 

Please join us in making this pledge to more diverse, equitable, and inclusive organizations.