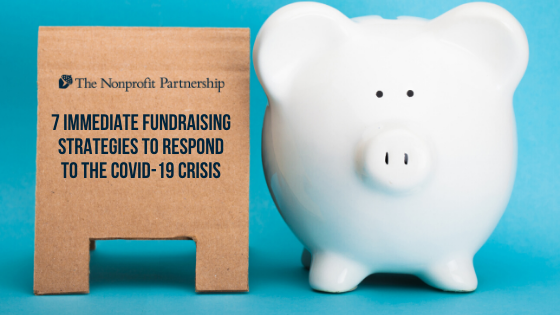 The COVID-19 crisis is impacting every aspect of our lives—including the ability of our nonprofits to do their work.   Just a few days ago, nonprofits could choose whether or not to stay open, have staff report to the office or work from home, and provide services.  Now, the options are limited.  Many are shut down, having been deemed "non-essential."  Many are heeding the recommendations to work from home.  Many have no more options.
This shutdown will have a dramatic impact on nonprofits and their ability to function in the long term.  What is the best way to mitigate this effect?  Fundraising.  You can't rely on ticket sales, donor events, government bailouts, reimbursements, grants, or anything else you once relied on.  These things won't help you for months to come.  So what do you do?  ASK YOUR DONORS FOR HELP.
Some fundraising suggestions:
Go right now to GoFundMe or some other online platform and set up an Emergency Response Fund.  Explain to your donors the financial impact of this crisis and how they can help.  We should be seeing hundreds of these.  It is simple and easy.
Send an email to your donors asking for support.  If you don't have an email list, start building one. (Need an email marketing platform? MailChimp has a free version). 
Ask for assistance on your social media platforms.  If you don't have social media platforms, begin building them.
Send your donors a letter requesting a donation.  If you can't send a letter or don't feel comfortable doing so, call them.  Likely, you have a number of team members who cannot do their jobs; ask them to call folks.
If you have members, ask them to renew their membership early or perhaps pay forward a membership by buying one for someone else.
If you sell anything (gift certificates in particular), ask folks to buy something during this time.  Never too early to do a little Christmas shopping, right?
Host a virtual event where you can ask for support.  Whatever field you work in, you can provide advice, guidance, something fun, all to a captive audience (many of us being stuck at home.)  Reinvent how you do your work and remind people of your value—then ask for money.
The bottom line is that nonprofits have to pay their bills.  And any funding coming from the government or others is likely to go to providing emergency needs, not operational support.  It is up to you to raise that money by tapping into the very generous community you live in. 
We will post another article on longer-term strategies to maintain your fundraising operations during this difficult time.  In the meantime, START ASKING FOR SUPPORT!