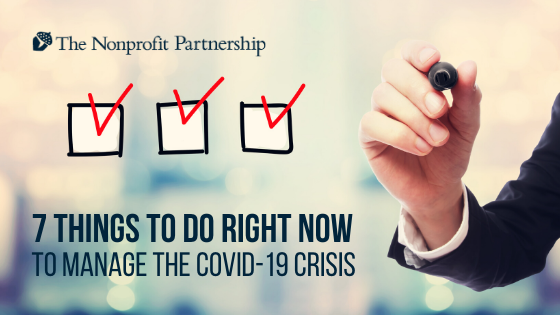 Things are moving very fast with the COVID-19 health crisis, including the closure of schools in Pennsylvania where most of our nonprofits' staff work, live, and play.  The Partnership knows this is having an immediate impact on our sector and your ability to provide services.  
Here are things you can do to prepare for the new norm (for now):
FILL OUT THIS SURVEY! NPP is having conversations with funders and other entities about the needs of the nonprofit sector.  If we don't know what you need, we can't advocate for you. Please help us. It takes 5 minutes.
Use tech, especially all the free versions.  Need to manage employees remotely?  Zoom, a videoconferencing service, offers a free version of its service; very inexpensive expanded versions of Zoom, billed on a monthly basis, can be canceled any time.  Tech Soup identifies other resources here to help continue your great work.
Communicate, communicate, and over-communicate. Social media and email communication platforms provide the opportunity to communicate with multiple audiences for free. Tell people your plans, what is happening in your organization, and how they can help. There are no excuses.
Ensure that your organization, your employees, and the people they serve are managed in a safe, compassionate, and comprehensive manner.  NPP has created and gathered information in this COVID-19 resource hub to help you do all of this.  We'll continue to add resources as they become available, so keep checking back for more information.
Ask for help. NPP stands by to assist. Please contact us.  We are going to a modified schedule and while our facility and workforce might not be physically in one place, we will be available. No question is too insignificant. Don't try and figure out how to do things on your own. Ask.
Collaborate. This term is thrown around a lot in normal circumstances, but it really means something during this crisis.  Again, fill out the survey so we can help funders help you.  Also, think about the resources you have or that others have and how they might be deployed in a collective manner.  
Ask for money. All organizations will be dealing with unexpected financial issues during this crisis. Everyone should be setting up an Emergency Fund for donors to contribute to so that they can help you navigate this difficult time. Unable to do it on your website? Use various established groups, like GoFundMe.  
Hopefully, we can all cooperate now to flatten the curve, and this new norm will won't be the norm for too long.  In the meantime, use all the resources you have at hand to minimize the harm to your organization, staff, and clientele.
---
Access current COVID-19 resources, as they relate to the nonprofit sector, now via our Resource Library.