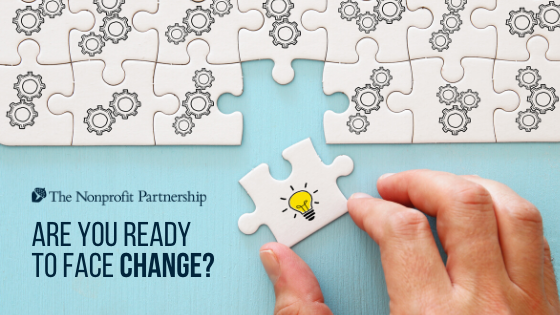 Nonprofits often ask me how best they can navigate change. In a world where change is the only constant, nonprofits need to be ready to affect change within their organizations in order to continue to provide programs in service of their missions. Some changes might bring benefits; others may be painful.
How do you help your organization embrace change? While not simple, there are a few steps you can take to help you manage the change so that it doesn't manage you. 
Develop a deep commitment to change within your organization and with those who lead. Resistance is inevitable, but resistance from the top is paralyzing. 
Create the right frame for change. Involve the right people, the right external help, and devote the right resources.
Do the hard work. Don't fall back into what's comfortable and resist being overtaken by external and internal factors.
Those charged with the internal leadership of an organization need to show an unwavering commitment to the future of the organization and need to be a proactive in building a coalition of stakeholders to bring about change.
In times of uncertainty, I encourage nonprofits to shore up their Board, first and foremost:  
Evaluate your Board members: Are your volunteer leaders all in? Are they giving time, talent and treasure (i.e., money)? Are they helping advance your vision and mission? Do you need to add members? Do you need to "graduate" members to a deeper, more engaged level of commitment? 
TALK to your Board members: Touch base in between meetings and help them stay current. Are Board members aware of your fragility? Share your vision and mission and why it's important. What are you doing that other organizations and the government can't do? What happens to the populations you serve if you can't provide your services? Talk about why your approach is unique and effective. Engage your Board members in strategic conversations and have them help you answer the tough questions facing your organization.
Ask your Board to talk to others: Board members want to be active participants but often don't know how. Provide tools that enable them to be collaborative and helpful to you.
Get your Board members to help you hold fast to your vision: Strive for what you set out to accomplish every day. Let your mission drive Board decisions and don't stray. Be unapologetic about who you serve and why. Make your mission your mantra.
If you can be authentic and keep your Board informed, they can help you achieve your mission once they understand the realities of serving your mission. Tell them what's true: the good, the bad, and the ugly. Don't hide. Instead, inspire participation. Ask them to join the fight by helping you shift and change.
---
Click here to learn more about Emma's work with Pilot Peak Consulting!