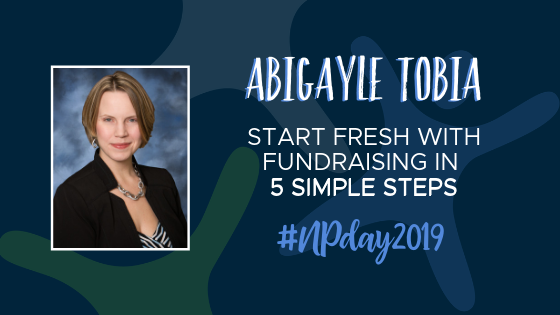 There is a great line from the trailer for the upcoming Spies in Disguise animated movie. After becoming a bird against his will, Will Smith yells, "Look at you? I can't not look at you. I can see your face and my butt at the same time!" Fundraising is often like that. You can't ignore it: you have to both look at the donor and the organization's rear-end at the same time.
Let's imagine you're charged with raising money for an organization and you're starting fresh on day one. Or maybe you've found a community need and decided to start a new nonprofit. How do you get started with fundraising?
First, acknowledge that the people who are closest to your mission are the most likely to support it philanthropically. Start a list on your preferred format – Airtable, Excel, your CRM, or even a pen and paper. List your top volunteers, top existing donors, executives, members of the Board of Directors, community advocates for your cause, clients served by the organization, and even your personal holiday card list.
Second, plan for coffee meetings – a lot of them. Every week, allocate 2 or 3 mornings or afternoons to meet with these supporters. The most powerful opportunity of a new project is the ability to say "I'm new to the organization, do you have time to tell me your story? How did you become involved with us? What is your favorite part of the organization? How have we delighted you (or failed to delight you)?" This is important – you have to let the donor start your relationship with their voice, their truth – and you have to believe them!
While you're at these meetings, your goals are simple:
Understand why this person makes a personal sacrifice to support your organization or the cause
Receive feedback on how to improve the organization's fundraising efforts and how they are willing to help you in these efforts
Request their advice on 2-3 more people that you need to connect with
These coffee chats are not about making the ask for money, they are about building meaningful relationships. These conversations are a window to a person's passion for the mission and their desire to help you make it more effective.  Much of the best work I've done as Executive Director is because someone cared enough to share an idea with me and provide feedback on how we could do better.
Third, work on the nuts and bolts of fundraising management. Pick a database, if you don't already have one. Figure out how you're going to keep contact notes. Form your support committees. These are important tasks because you will need this structure before you get to the next two steps! If you're in year two or three of this process, identify new committee members or restructure areas that are not working well.
Fourth, create your development fundraising plan and document your fiscal year activities. Too many fundraisers allow their work to be dictated by the ideas of the board of directors. Clearly map out which months you have events planned, when you want to send a direct mail appeal, when you have the most grant deadlines and when you're busy preparing for giving days and workplace campaigns. Evaluate your cost per dollar raised and what support teams you have in place for each of these strategies. The first time you work through the process it can be overwhelming and some choose to outsource this process. In the end, though it is both your "in case I win the lottery and move to Italy" plan and your case for professional respect and evaluation. This also prevents your committee meetings from becoming a monthly opportunity for volunteers to assign you more work. Instead, those meetings have tasks, reports, and outcomes based on fundraising goals. For me, this year's plan included adding a DipJar to our engagement events, moving back my annual appeal letters by a few weeks, and enhancing donor communications.
This is where all of those great ideas from step 2 come in. Did someone offer to host a porch party? Great – add it to the plan! Someone else wanted to introduce you around town? Yes please – does March work for you? All of the research on local foundations that support missions like yours are documented here. If you've completed donor screening tools those summary results are documented here. Your post-event summary meeting notes with the committee – also included here.
Finally, implement the plan you've made while evaluating your results.
 In summary, these are the five steps you can revisit at the start of every fiscal year:
Identify those who care the most
Listen to their stories
Make sure you have the organizational infrastructure to move forward
Create or refresh your development plan for the year and identify a few areas of improvements.
Implement your plan
---
Abigayle Tobia will be presenting at Nonprofit Day 2019 on Tricks of the Trade: Building a Fundraising Program. Abigayle is a Certified Fund Raising Executive (CFRE) and holds a Master's Degree in Nonprofit Management from Regis University. Prior to Regis, Abigayle attended the University of Iowa where she received a bachelor's in Social Work with an emphasis in Juvenile Studies. Abigayle serves as both a consultant and Executive Director of North Allegheny Foundation. As Executive Director she has quadrupled the funds raised and mission impact in three years. Abigayle was a key member of the fundraising team at several organizations.

Connect with Abigayle on social media: