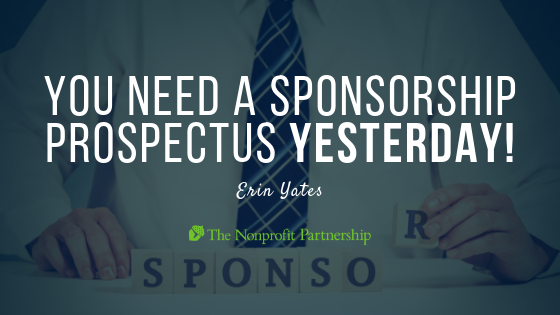 Events: every organization has one.
In a lot of ways, events are great. They can be excellent friend-raisers. They can help get the word out about your mission. And while they're a lot of work, at the end of the day, they're conceptually straightforward: bring in enough money to cover the cost of the event and still have some left over. Easy-peasy!
But events are not the most effective or efficient fundraising tools. In his book Fundraising Fundamentals: A Guide to Annual Giving for Professionals and Volunteers, James Greenfield writes that organizations can reasonably expect to spend fifty cents to raise a dollar with events, compared to ten to twenty cents with capital campaigns and twenty to twenty-five cents with direct mail renewals. Going by these numbers, it's easy to see why some people argue that events aren't the best possible use of your organization's resources.
Don't worry, you don't have to ditch your signature event. There's good news: corporate sponsorships can help you increase your ROI. And how do you sell sponsorships? With a sponsorship prospectus! 
---
A sponsorship prospectus is a document that lays out all of the information a prospective sponsor needs to know in order to make a decision about whether they want to support your event.
Unlike a typical appeal, your prospectus will emphasize the business case for supporting your event and your organization. Placed side-by-side next to your typical appeal, which likely features detailed, heart-rending storytelling, it's going to feel cold and maybe even a little boring.
Why emphasize the business case, you ask? To be frank, that's where the money is.
When you're seeking corporate support in the form of event sponsorships, you don't want to limit yourself to companies that have an investment in your mission, because while many companies truly believe in corporate social responsibility and want to give back to the causes they care about and the communities they're in, just as many simply want exposure and the halo effect that comes with supporting nonprofits. You need to focus on the ways companies are making decisions, and that means relying on the strength of your business case, rather than on goodwill alone.
That's not to say that you should check your mission at the door. You still need to include parts of your public-facing appeal in your sponsorship prospectus. (This is partly to give your reader a better idea of what your organization does and partly to catch those people who may be on the fence on the dollars-and-cents side but can be convinced to participate because they love your mission.) It's just that you can't lead with a story about all of the lizards and snakes at your reptile rescue that have found their forever homes as you might in an appeal. That story won't appeal to the cat-loving company CEO and it doesn't demonstrate how sponsoring their event will lead to positive business outcomes for their company. 
---
Want to learn more about creating a sponsorship prospectus? Check out my Creating a Stellar Sponsorship Prospectus eBook.
---
Now that you're utterly convinced of the importance of using a sponsorship prospectus, I have to offer a disclaimer: your prospectus is only one part of the equation when it comes to selling sponsorships.
Your prospectus is only as good as the sponsorship program it's showcasing. So in order to bring in more sponsors and increase the ROI on your event, you need to make sure you have a rock-solid foundation in place.
That requires that you take a good, hard look at how you've been doing things (or how you plan to do things, if this is new event). Here are a handful of questions to help get the wheels turning:
Are you issuing sponsorship fulfillment reports?
Are you surveying sponsors after your event to get their feedback on how things went?
Are you offering to customize your packages to meet sponsors' needs or offering a "build your own" option?
Do you have a sponsor stewardship strategy?
Do you communicate with sponsors between the end of one year's event and the next time you ask for their support?
Do you have high rates of sponsor retention from year to year?
Have you reevaluated your pricing structure within the last five years?
Is there a clear relationship between the each package's price and its attendant benefits?
Are you clearly communicating the benefits and opportunities that make up each package?
Answer yes to all of the questions above? Awesome! More power to you. A prospectus might be the only boost you need to take your sponsorship acquisition to the next level.
But if, after considering these questions, you still aren't sure if your sponsorship program is in fighting shape, email me at eyates@yournpp.org to set up a sponsorship program review!
---
This post was adapted from my Creating a Stellar Sponsorship Prospectus eBook. You can find it here.