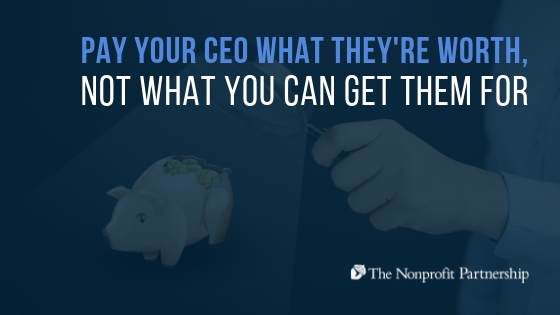 It's no surprise that, much like all other American workplaces, nonprofits will go through a major transition in the coming decade as Baby Boomers retire. There has been a lot of discussion, and a lot of worry, about the fact that the nonprofit workforce is not ready for this transition. Unlike the for-profit sector, the nonprofit sector invests very little in succession planning and leadership development.  Unless that changes, we are likely to face a significant problem as Boomers retire and are replaced with staff that have not been properly educated, trained, or challenged as leaders. Our chronic lack of investment in staff will be magnified significantly during this transition, at the expense of our missions and agencies.
One way that nonprofits can take a proactive role in managing this transition is by fairly compensating their CEOs. We recently conducted an unscientific salary survey and found that CEOs are often grossly underpaid. To head off the disaster that's lurking in this transition process, we need to fix this problem.
In my role at NPP, I am often called into a discussion with an organization as they prepare for a leadership transition. As was reported in our salary survey, the exiting leaders are typically around retirement age, they've been with the organization for many years, and their salaries are not in line with market rates. The conversations I have usually go one of two ways:
Conversation #1:  I am sent a job description, including salary range, for the position they'd like to fill.  Most of the time their salary range is far below what would be accepted by an incoming CEO. This is often the result of a long-time CEO taking few to no raises with the intent of sustaining the organization through tough times. This low salary becomes accepted as normal… until the organization looks to find a new CEO and discovers that nobody else will accept this salary. After reviewing the position description, I usually say two things: 1.) reduce the expectations for this position and 2.) reduce the years of experience you're expecting of candidates.   
Conversation #2:  An agency asks me ahead of time what we think a salary range should be for a leader of an agency X size, with X budget, and X number of years' experience. The Partnership researches the question the best we can and provides a range. More often than not, the agency's response is that the range is much higher than what they've been paying their outgoing CEO. And my response is that, if that's the case, they've underpaid their CEO.
Even if your current CEO is not asking for a competitive wage, you should give it to them because they deserve it. They are entrusted with something of incredible valuable: your organization's mission.
And if deserving-ness is not enough for you, you should increase their pay over time so that the organization is financially prepared to pay a competitive rate to the next CEO. We have seen CEO salaries at $20,000 or $30,000 under what would be considered competitive. Your organization is better off incrementally increasing CEO pay so that you are not met with budget hardship when you need to accommodate the new CEO's needs.
"You get what you pay for" applies to CEO pay, too.  If you believe you can't pay a new CEO what they're worth, you will get what you pay for. With such a large portion of the experienced workforce retiring, you will face significant competition to recruit the best candidates for your nonprofit. If you cannot provide a competitive wage, you will be recruiting the less experienced, less knowledgeable, and less desirable candidates than those organizations who have planned and budgeted for this inevitable transition.
Looking to learn more about the 2018 NWPA Nonprofit Salary Survey? Click here for access to the reports!