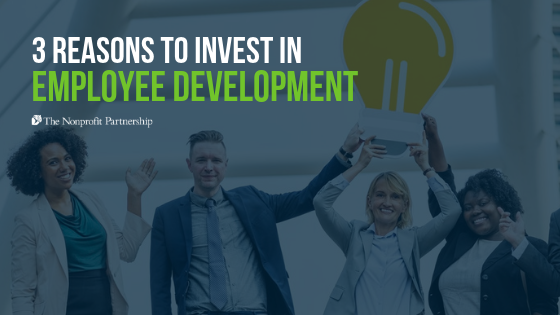 "CFO: What happens if we invest in staff and they leave? CEO: What happens if we don't and they stay?"
Investing in your staff is crucial to not only their own development, but your organization's own success as well. Below, are 3 very important reasons to invest in employee development and why your organization needs to view employee development as a smart investment.
1. It keeps your employees engaged 
Investing in employees by encouraging them to pursue continuing education shows that you care about their development and it is good for the organization as they become more effective in their work.  Providing opportunities for them to participate in trainings, viewing webinars, and gaining certifications motivates them in their work. It builds in them confidence to do their best work, which has been shown to increase productivity.
2. It forces you to plan for the future
Employees who know the latest and greatest in their fields will move your organization forward. The education received in the past might not be relevant for the future. Creating a plan for employee investment will help you to manage that investment while also keeping your employees on top of their game.
3. It helps recruit and retain good employees
Prospective employees look at whether or not potential employers invest in their employees.  They check mark this into their "pros" column as a benefit when making their decision about a new employer. Presenting this as part of the benefits package may give you competitive advantage over another organization.
It increases your reputation as an employer who invests in their employees, has knowledgeable staff, and it also shows those served by your mission that you are continuing to develop your abilities as individuals and as an organization.
Those employees who proactively take advantage of your willingness to invest sets them apart as ones who are looking to better themselves and who are highly motivated to succeed.
Now that we've covered the why of investing in your employees, let's talk about the how.  It is important to note that this investment isn't just a financial investment but one of time and one of dedication to their growth.  Here are some ways in which your organization can invest in its employees:
Pay for certifications and continuing education from external parties.
Offer perks and fringe benefits. This can be as simple as providing lunch for staff on the last Monday of every month or adopting a summer Fridays schedule. These can largely be simple offerings that show your employees you care about them and their development.
Pay for up-to-date technology. Making sure your employees have the tools they need places your organization on the path to success.
Build a culture of teamwork.  This might include regular team building activities, a coaching or mentoring program, or recognition awards.  These efforts help employees as they pursue their career paths as well as create a positive morale within the workforce.  A win-win for both employees and the organization.
While the Achievement Center has maintained a steadfast commitment to providing quality services for nearly a century, they recognize that the ability to provide a level of excellence in services to the public is only made possible through the combined efforts of talented staff. While the funding for training isn't always readily available, its important to find ways to provide professional development.
Investing in your employees is investing in the future of your organization. It's an ongoing effort that your employees will greatly appreciate. Remember, they are your most valuable assets!
---
Charlotte Rerko is the Chief Executive Officer with the Achievement Center in Erie, Pennsylvania – a role she began in April of 2017. Charlotte is an alumna of St. Alexis School of Nursing, Ursuline College and Kaplan University. She is a member of the American Psychiatric Nurses Association, the American Nurses Association, National Alliance on Mental Illness, and the American College of Healthcare Executives.
Charlotte has a variety of experience in the field of behavioral health and has served in progressive leadership roles for more than 18 years including director of behavioral health, chief clinical officer, chief operating officer and chief executive officer.
Charlotte's passion for humanity was kindled early-on by her interest in Clara Barton, fellow nurse and one of the most honored women in American history. Charlotte's early career as a registered nurse thrived as she worked through daily challenges presented in the Critical Care Unit, the Intensive Care Unit and the Emergency Room. As her interest in nursing seasoned, she sought new challenges to elevate her experience into leadership roles. Charlotte's expansive experience has been an asset to the Achievement Center as the agency continues to grow as a highly respected provider of therapeutic services for children and families.
The Achievement Center, founded in 1923, focuses on meeting the unique needs of children and adolescents who are experiencing emotional, physical, developmental, mental health or behavioral challenges. Through clinical expertise, a sincere love for children and a desire to help others, the talented and experienced professionals provide infants, children, adolescents, and young adults with individualized therapy to build upon their strengths.