Temulin Batjargal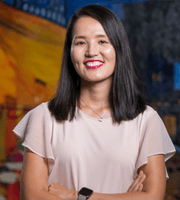 Temulin Batjargal serves as an Administrative Assistant at The Nonprofit Partnership. She was born and raised in Mongolia. Temulin obtained her Bachelor's degree in International Business Management from Nilai University in Malaysia and her Master's degree in Public Administration (MPA) from Gannon University in the USA.
She is responsible for major clerical and organizational tasks such as file organizing, scheduling appointments, assisting in communication activities, and assisting other staff members. In addition, she assists management and staff members at the Nonprofit Partnership in achieving the organizational vision to create a stronger, healthier, and more vibrant community through an empowered nonprofit sector.
Temulin served as a foreign relations manager at NBC Telecommunications Company in Mongolia for 4.5 years before coming to the USA. Also, she has worked as a Graduate Research Assistant in the MPA Program at Gannon University and a New American Outreach Specialist Intern at the Mayor's Office in the City of Erie while studying.
Furthermore, Temulin has served as both a team member and team leader on projects centered around current events and social issues.
Temulin dreamed of working in the nonprofit sector to help people and the community since she was a kid. She believes working for a nonprofit organization gives people the opportunity to make a difference and positive impact by spreading awareness of their organization's cause.
Email: tbatjargal@yournpp.org
Phone: (814) 240-2490 ext. 3
Connect with Temulin on LinkedIn.