Governance Gateway: Nonprofit Board Training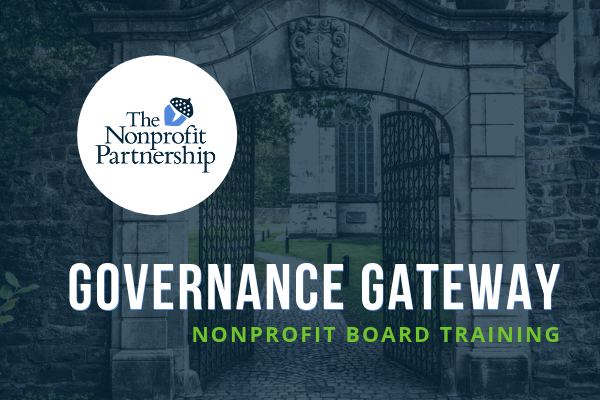 Registration for "Governance Gateway: Nonprofit Board Training" is open!
This training will offer Board members, new and established, with the opportunity to learn about foundational best practices in nonprofit governance.  The Gateway training will provide attendees with an understanding of the sector, the basic tenets of governance, and their individual roles and responsibilities as nonprofit leaders.  This training will be a powerful resource for any Board member wishing to enhance their understanding of their duty to their organization, the sector, and the community.
This interactive training will be led by Adam C. Bratton, Executive Director of The Nonprofit Partnership.  Adam has over 20 years of experience in the nonprofit sector, including service on numerous Boards.  Adam regularly speaks and trains on nonprofit governance and has obtained a Certificate in Board Consulting from BoardSource, the preeminent authority on nonprofit Board governance.  
This training is provided every few months. Upcoming options include:
Thursday, August 8, 2019: 9:00 AM - 2:00 PM
Thursday, December 12, 2019: 9:00 AM - 2:00 PM
Click here to sign up for a date that works for your schedule!
---
Add your name to the lottery for a chance to secure a free registration!
Thanks to the generosity of one of our Associate Members, Knox Law, we are able to provide five free registrations for the next Governance Gateway: Board Member Training on Thursday, August 8, 2019. 
We will award registrations via lottery. Winners will be notified on Thursday, July 18, 2019. To qualify for a free registration, you must be the Executive Director or a board member with a member organization. Not sure if your organization is a member with us at The Nonprofit Partnership? Please check the Member Directory here. 
Questions? Please contact Erin Yates by email at eyates@yournpp.org.