The Art & Science of Fundraising: An Intensive Training Course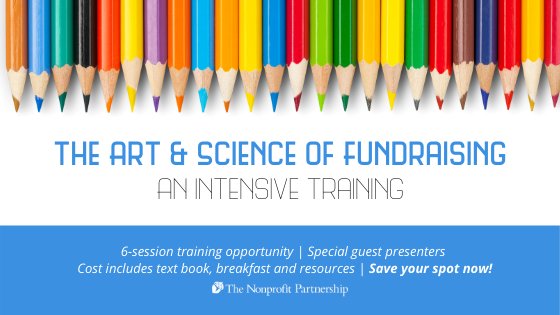 What past attendees have said about "The Art & Science of Fundraising..."
"This course was worth every penny."    

"I enjoyed the guest speakers and felt they each offered something valuable and relevant. It was great to have this opportunity with them, also, that most of us might not normally have."

"This was one of the best professional development "things" that I've ever participated in. I took so much from it and am excited to learn. I was initially hesitant as to what I'd gain, but it was absolutely wonderful. I cannot say enough good about this course." 

"This was the best use of our money and my time that I've come across in a long time (except, perhaps, Nonprofit Day). I got more from this course than I could've imagined and am genuinely excited to put so much into practice. Every piece of this course was perfectly designed from the topics, to the handouts, the information presented, the speakers, the open conversation, etc. I cannot speak highly enough of this..."
---
Registration for "The Art and Science of Fundraising" is now open!
Join Adam Bratton, Executive Director with The Nonprofit Partnership, and special guest presenters for this six-session training opportunity, to take place between May and July of 2020!
This training opportunity is a great fit if...
You're new to the development field and looking to learn and gain connections
You are a leader looking to round out your skills
You're an experienced fundraiser that's hungry for more knowledge!
Session dates and special guest presenters include...
Session 1: Introduction to Fundraising – Wednesday, May 6th
Session 2: Creating a Fundraising Program – Wednesday, May 20th with Linda Moore, Sight Center of NWPA
Session 3:

Building Relationships

– Wednesday, June 10th with Nicole Reitzell, Erie Downtown Development Corporation 
Then, take a break for Celebrate Nonprofits Week - June 22nd through June 26th!
Session 4: Major Donors and Making the Ask – Wednesday, July 1st with Jonathan Rilling, Erie Homes for Children and Adults, Inc.
Session 5:

Fundraising Medley—Planned Giving, Events, and Grantseeking

– Wednesday, July 8th with Emma Kieran, Pilot Peak Consulting
Session 6:

Creating a Culture of Philanthropy

– Wednesday, July 15th 
Please access the Membership Portal here for full information and registration details.