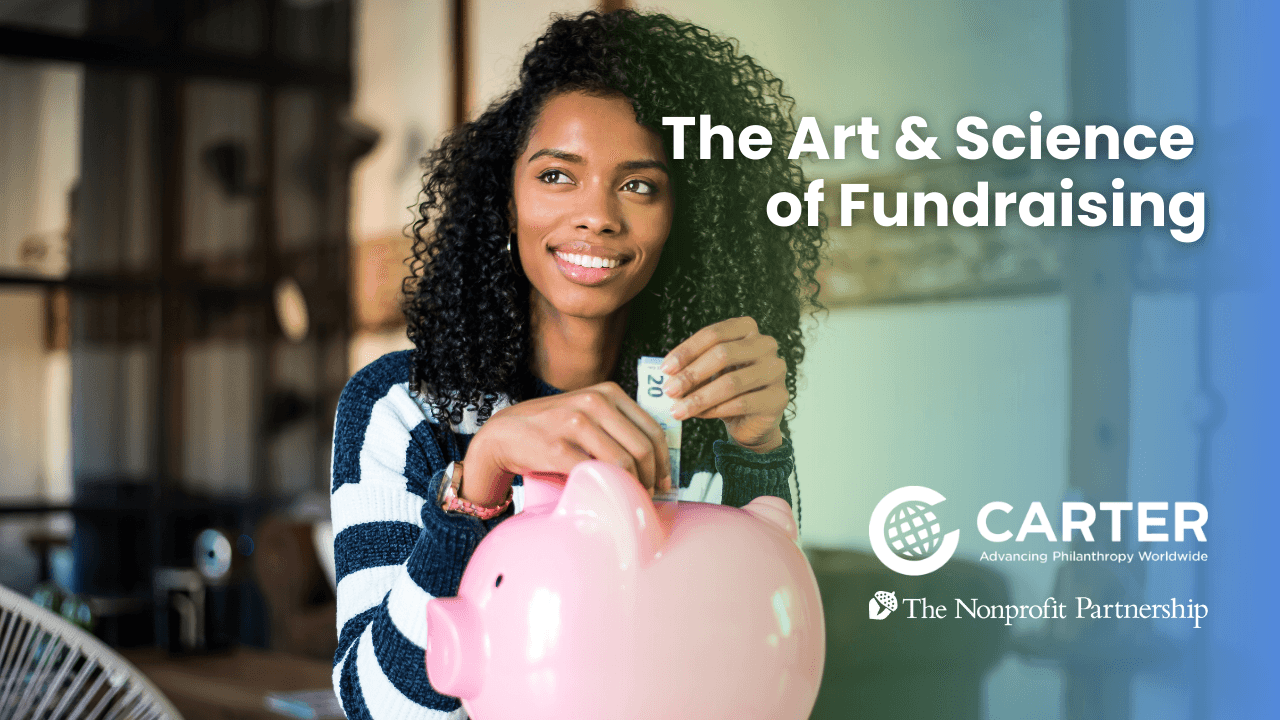 Successful fundraising occurs at the intersection of art and science.
The Art & Science of Fundraising will provide nonprofit staff and Board Members with the foundation, history, background, and skills to advance fundraising in their respective organizations.
This training has packed its bags and made the move to the world of online learning! Access our various course segments through our online learning management system (LMS) on your schedule and at your own pace. Within the system, you will be able to access videos, suggested readings, supplemental materials, downloads, quizzes and more.
Maximize your learning with a wrap-up session - offered quarterly, either online OR in-person. 
Participants will...
Understand the history, trends, and ethics of the fundraising profession
Learn how to create, implement, and advance a fundraising program
Understand the importance of the relationship building process in fundraising
Learn how to create a culture of philanthropy within an organization
And more!
Session segments include:
Introduction to Fundraising
Creating a Fundraising Program
Building Relationships
Making the Ask and Major Donors
Planned Giving
Fundraising Medley
Wrap-up session options include:
Wednesday, June 14th at 12:00 PM - virtual or in-person at The Nonprofit Partnership
Wednesday, September 13th at 12:00 PM - virtual or in-person at The Nonprofit Partnership
Tuesday, December 5th at 12:00 PM - virtual or in-person at The Nonprofit Partnership
Educational content brought to you by:
Adam C. Bratton, Executive Director with The Nonprofit Partnership
Jeff Bagel, CFRE, Principal with eAdvancement Consulting
Emma Kieran, Principal with Pilot Peak Consulting
David Schumacher, CFRE, Development Officer with Shriners Hospitals for Children – Erie
Ellen Kehl, Associate Director with The Nonprofit Partnership
Ted Wood, President with Ted Wood & Associates
Jonathan Rilling, Vice President of Marketing, Advancement & Communications, Erie Homes for Children and Adults, Inc. and Board President with The Nonprofit Partnership
Steve Higgins, CFRE, President & CEO with Carter
Angela D. Barnes, MBA, Managing Director with Carter
Melissa S. Brown, Project Associate with Carter
Audrey Edmonds Stone, CFRE, Managing Director with Carter
Erin Layden, Director of Development with Erie City Mission
Amanda Karns, Special Projects Coordinator with Harborcreek Youth Services
Logistics and pricing:
Member pricing: $300
Non-Member pricing: $400
Cost includes access to the online learning management system, office hours support, a wrap-up session, and two books - "Asking: A 59-Minute Guide to Everything Board Members, Volunteers, and Staff Must Know to Secure the Gift" by Jerold Panas and "Nonprofit Fundraising 101" by Darian Rodriguez Heyman with Laila Brenner.
Registrants will be granted access to the online LMS when registration is complete and payment is finalized. Books will also be mailed upon registration.