The Art & Science of Fundraising: An Intensive Training Course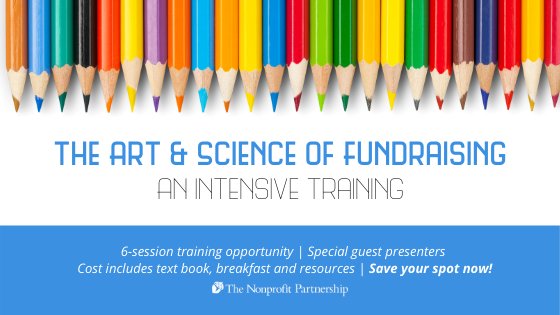 What past attendees have said about "The Art & Science of Fundraising..."
"This course was worth every penny."    

"I enjoyed the guest speakers and felt they each offered something valuable and relevant. It was great to have this opportunity with them, also, that most of us might not normally have."

"This was one of the best professional development "things" that I've ever participated in. I took so much from it and am excited to learn. I was initially hesitant as to what I'd gain, but it was absolutely wonderful. I cannot say enough good about this course." 

"This was the best use of our money and my time that I've come across in a long time (except, perhaps, Nonprofit Day). I got more from this course than I could've imagined and am genuinely excited to put so much into practice. Every piece of this course was perfectly designed from the topics, to the handouts, the information presented, the speakers, the open conversation, etc. I cannot speak highly enough of this..."
---
Timing and format for the 2020 session of The Art & Science of Fundraising is currently being assessed due to the COVID-19 pandemic.
We will post new information as soon as possible. Thank you!