Join The Nonprofit Partnership on Tuesday, October 29, 2019 for the 19th annual Nonprofit Day conference!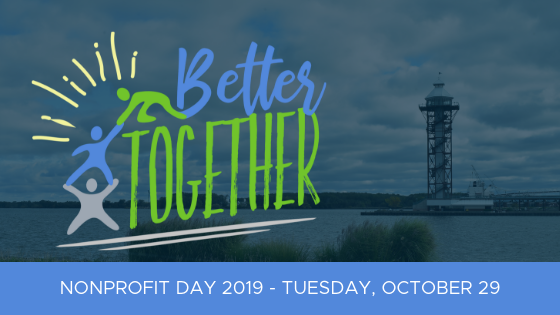 Please join The Nonprofit Partnership for the 19th annual Nonprofit Day conference on Tuesday, October 29, 2019 at the Bayfront Convention Center in Erie, PA!
When: Tuesday, October 29, 2019
Where: Bayfront Convention Center - Erie, Pennsylvania
Click here to view the dedicated conference website.
The theme for Nonprofit Day 2019 is "Better Together." 
Together is a significant word.  It's a word that immediately empowers, strengthens, and provides hope.  In the nonprofit sector, we know that we have to do things together. It is the foundation of how we do good work. Maybe it's working with clients to address life issues. Or maybe it's working as a team to stretch our thin resources and fulfill a great mission. Or perhaps it's working with other nonprofits to tackle some of the biggest challenges our society faces. We know we have to do these things together. And we know that to do our best work, to solve the world's biggest problems, to break down the barriers for us and the people we serve... it is better that we do it together. 
Are you interested in attending Nonprofit Day? Click here to register today!
Is your business interested in exhibiting at Nonprofit Day and/or sponsoring the conference? Please click here or email Erin Yates, Operations & Special Projects Manager, to discuss possibilities. 
Interested in speaking at a future Nonprofit Day conference? There's a list for that! Add your name here.