Michael P. Robb, President & CEO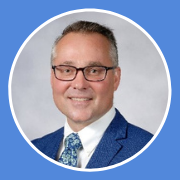 Focus Areas:  Management & Operations, Leadership Development
Mike Robb was named Executive Director of Center for Community Resources in August 2005. He is also Executive Director of Alliance for Nonprofit Resources (founded in 2008), the Nonprofit Development Corporation (founded in 2010), and Community Partnership (founded in 2019). He holds a Bachelor of Arts degree in Psychology and Philosophy from John Carroll University and a Master of Arts degree in Psychology and Counseling from Slippery Rock University. Mike has over 20 years of experience in the nonprofit sector, and oversees 600 staff members and 59 programs. 
He received the CEO of the Year award by The Nonprofit Partnership in 2020, Pittsburgh Business Time's Most Admired CEO Award in 2016, as well as the Smart Business Greater Pittsburgh Smart 50 Award in 2014, and the Ernst & Young Entrepreneur of the Year for Western Pennsylvania and West Virginia in 2012.
Mike is a member of the Criminal Justice Advisory Board and the Hearing and Deaf Services of Allegheny and Westmorland Counties. He spends his free time with his wife, Angie, and his four children, Emily, Caleb, Ian and Macrina. He also is an elected public official in Winfield Township, and coaches soccer at Knoch High School.
Contact Mike: