Justin Barker, Information Technology Manager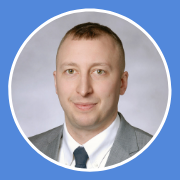 Focus Areas:  IT Support, Server Management
Justin Barker is the Information Technology (IT) Manager for the young and quickly growing A-Tech, a division of Alliance for Nonprofit Resources (ANR).  Over the past five (5) years Justin has been an integral part of creating healthy and strong growth for A-Tech.  He has helped ANR expand its IT support to over 40 new business clients, making A-Tech one of the leading nonprofit IT service providers in Western Pennsylvania. 
Before joining A-Tech, Justin got his start in IT in the United States Army in which he served four (4) years, including a 15 month tour in Iraq with the 1st Sustainment Brigade, 1st Infantry Division out of Fort Riley, Kansas.  After his military service, Justin obtained his degree in IT and worked for companies including Channellock Inc. and Progressive Insurance before finding his way to A-Tech.
Justin continues to grow himself professionally by exploring new avenues for A-Tech and expanding the services offered to all of their clients.  Justin has certifications in Electronic Access Control (EAC) and is a certified locksmith, moving A-Tech into the physical security aspect of IT, installing and maintaining door access systems and security cameras. 
Contact Justin: