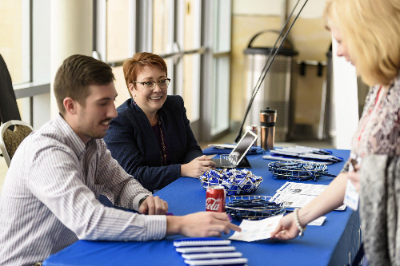 What's an Associate Membership?
Associate Memberships are a way for businesses to gain visibility in the nonprofit sector while establishing themselves as engaged corporate citizens.
When a company becomes an Associate Member, they commit to supporting the work of The Nonprofit Partnership for an entire year. Associate Memberships may include sponsorships at our annual educational conference, Nonprofit Day; sponsorships of regularly scheduled morning workshops, seminars, and labs, with the option to present on a topic; complimentary attendance at most morning sessions; a presence on The Nonprofit Partnership's website, YourNPP.org; advertisements in our email newsletter, the Nonprofit Insider; complimentary nonprofit board service training for staff; and much more! 
Want to learn more about becoming an Associate Member of The Nonprofit Partnership? Download the Associate Membership Benefits Guide below or email Erin Yates, Operations & Special Projects Manager.
Associate Membership Opportunities
Check out the newly revised and expanded Associate Membership Benefits Guide for information on all of our Associate Memberships!
Associate Members of The Nonprofit Partnership
Champion-level Associate Members
Patron-level Associate Members
Highmark Health is an interdependent system designed to deliver high quality, accessible, understandable and affordable experiences, outcomes and solutions for customers.
Advocate-level Associate Members
Crouch & Associates are performance consultants that build fundraisers who are aware, prepared, and passionate about maximizing their organization's potential. They will help you hear something you haven't heard before, feel something you haven't felt before, and do something you haven't done before.